World Cup 2006
Messi's first goal and his first appearance against Serbia and Montenegro in the group stage helped Argentina to win 6-0. This goal made Messi the youngest Argentina player to score at a World Cup . Argentina defeated 2-1 Mexico in the round of 16. Messi is not on the bench for the quarter-finals and it is time for Argentina to dry their shirts by the round of eight, under the feet of the German Iron Eagle.
World Cup 2010
Messi did not seem to do well at the 2010 World Cup, despite helping Argentina win a gold medal at the Beijing Olympics China in 2008. At the 2010 World Cup, Argentina reached the quarter-finals, but Messi failed to find the back of the net. An assist for Carlos Tevez, who helped Argentina beat Mexico 3-1 in the last 16.
World Cup 2014
At the 2014 World Cup, Messi performed well, scoring four goals and assisting in seven games. Messi helps Argentina lead
to reached the final against Germany but lost 1-0. Messi scored two goals in the match against Nigeria, Argentina won 3-2.
It should also be noted that at the 2014 World Cup, Messi won the best player award at the 2014 World Cup Messi.
World Cup 2018
At the 2018 World Cup, Argentina have been drying their shirts since the last 16 under the 2018 World Cup champions France. Messi missed the penalty in the opening match against Iceland. Messi's only goal came against Nigeria in the final Group Stage. Interestingly, Messi is the only player to score at a young age, 20, 30.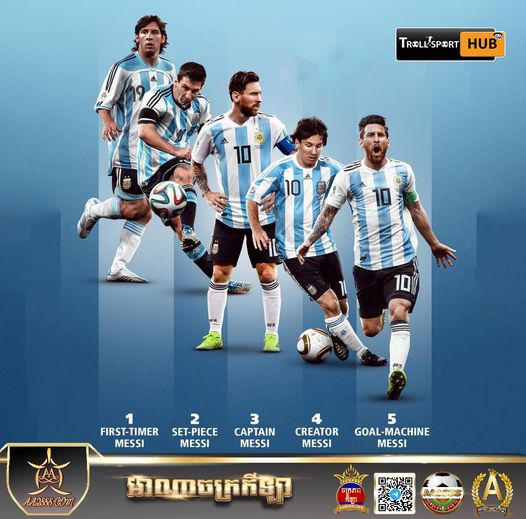 Messi

 has scored six goals in 19 games at FIFA World, 2006, 2010, 2014, 2018.
Sponsored by ៖ #AA2888
Telegram ៖ https://t.me/aa2888helpcenter1/
A.A.2.8.8.8 the best entertainment website with highly confidential, privacy and safety.
Contact Customer Service for 24h/7
•Cellcard: 061782888
•Metfone: 068782888
•Smart: 069782888